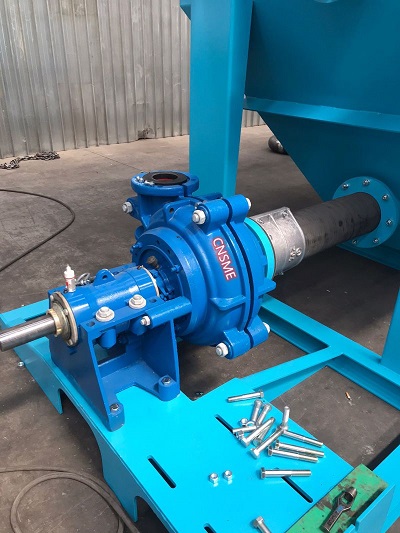 Pump Knowledge — Commonly used shaft seal types of slurry pumps
In the classification of pumps, according to their slurry delivery conditions, we refer to pumps suitable for transporting liquids (mediums) containing suspended solids as slurry pumps. At present, the slurry pump is one of the indispensable equipment in various technological processes such as ore beneficiation, coal preparation, desulfurization, and filter press feeding. As people pay more attention to environmental protection, the sealing of slurry pumps is also being paid more and more attention.
There are three main types of shaft seals for slurry pumps: packing seal, expeller seal, and mechanical seal. These three types of shaft seals have their own advantages, which are introduced as follows:
Packing Seal:
The packing seal of the slurry pump relies on the soft and hard running-in between the packing and the shaft sleeve to achieve the sealing effect. The packing seal needs to add shaft seal water, the pressure of which must exceed the slurry pump discharge pressure. This sealing method is easy for Replacement and is widely used in ore dressing plants and coal washing plants.
Expeller Seal:
The expeller seal of the slurry pump relies on the pressure generated by the expeller to achieve the sealing effect. This sealing method is employed when the user is short of water resources.
Mechanical Seal:
The mechanical seal relies on the close contact between the rotary ring and the static ring in the axial direction to achieve the sealing purpose. The mechanical seal can prevent water from leaking and is especially popular in major domestic concentrators and power plants. However, it is necessary to protect the friction surface to avoid abrasion during installation. Mechanical seals are generally divided into single mechanical seals and double mechanical seals.
At this stage, we recommend the single mechanical seal with flushing water inmineral separation plants. This type of mechanical seal has been widely used. Although mechanical seals without flushing water are also recommended by mechanical seal manufacturers, they are not ideal in field applications.
In addition to the above three commonly used shaft seals, there is also a shaft seal, which is called "L"-shaped shaft seal in this industry. This kind of shaft seal is generally used in large or huge slurry pumps, but is rarely used in small and medium-sized slurry pumps.
Therefore, in the selection of the slurry pumps, not only the pump performance specifications must be considered, but the selection of the shaft seal is also very critical. Selecting the suitable shaft seal for slurry pumps, based on the characteristics of the transported medium at site and the working conditions, will extend the reliable operation time of the pump and reduce the down time caused by the replacement of shaft seal. In this way, not only the total ownership cost is very much reduced, but also the working efficiency is greatly improved.