● Flow rate :56-365m3/hr
● Head H(m): 8.2-100.2
● Speed: 700-1480rpm
● Efficiency:Max71.6%
● Materials: Impeller A05
● Power: Max 160Kw
● Partical max size(mm):34
● Color: Depend on customers' requirements
● NPSH (m):2.5
● Warranty: 1 year Warranty (except wet-end parts)
Introduction: 
This ZJ series comprises single-stage heavy duty slurry pumps with easily-replaceable wear parts and re-adjustable wear plate, in a sandwich casing. ZJ pump is a Chinese design, with only metal linings, and is very widely used for abrasive applications.
Advantages:
•Ensured client use of valuable extra-hard material.
•Savings on first investments and spare parts.
ZJ pump application examples:
•Sludge in stone quarries.
•Discharge/feed pump in tunneling.
•Mixer pump for ready-mixed concrete
ZJ series are large volume, high head slurry pumps which are popular in industries like power plants, coal washing plants, filter press, sand washing plants, etc.
Specifications:
| | |
| --- | --- |
| Model | 100ZJ |
| Capacity | 56-365m3/h |
| TDH | 8.2-100.2m |
| Max. Allowable Motor Power | 45/55/75/90/132/160Kw |
| Speed | 700-1480r.min |
| Max. Efficiency | 71.6% |
| Lubrication | Oil |
Construction of ZJ Slurry Pump: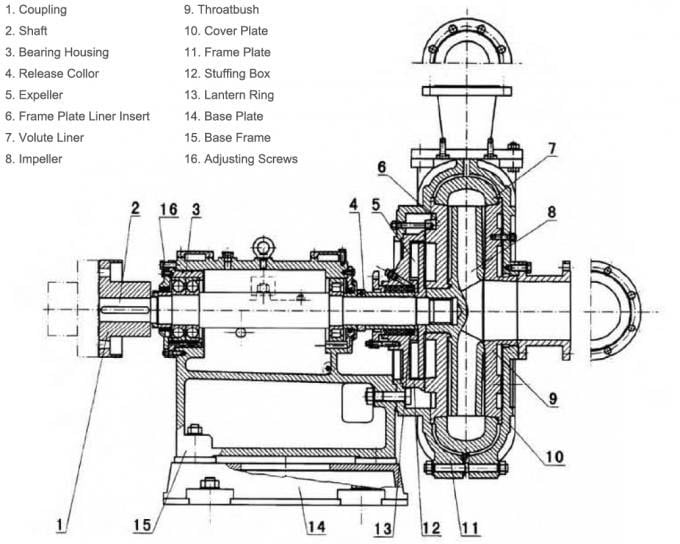 Standard Material of Wet-end Parts: Hi-Chrome Alloy A05
Typical Applications: 
Bottom/Fly Ash
Coal Washing
Power Plants
Potash Fertilizer Plant
Iron Ore Dressing Plant
Gold Mine Concentration Plant
Projects with ZJ Slurry Pumps: