Introduction: 
● Color: Blue
● Material: A05 high chrome iron alloy
● Function: Delivering foam slurries
● Type: Vertical
● Theory: Centrifugal
● Efficiency: Max.55
The type 'SF' Froth Pump is a vertical pump complete with a hopper that utilizes casings and liners from the Type 'SH' pumps.
It is designed to pump frothy slurries more efficiently by de-aerating or partially de-aerating the froth before it enters the pump head, utilizing an induced vortex principle.
The 'SF' range is available in sizes ranging from 50mm up to 200mm discharge diameter.
Pump Model: SF/50QV
Hard metal vertical froth pumps SF series has been designed to increase the pumpability of frothy slurry. The principle of operation is similar to that of hydrocyclone separation.
Standard pumps are supplied with parts in wear-resistant high chrome iron alloy, with a nominal hardness of 58-65HRC.
The SF froth pump is ideal for all applications involving the handling of air-entrained slurries, such as flotation froth in base metal concentrators, phosphate and apatite washing plants, and calcium carbonate upgrading plants. The pump can also be used as a mixing and distribution unit, where the dry powder has to be mixed with water.
Specifications:
Pump
Model
Allowable
Max. Power
(kW)
Material
Clear Water Performance
Diameter
Capacity Q
Head
H(m)
Speed
n(r/min)
Max.Eff.
η%
Suction
(mm)
Discharge
(mm)
Impeller
m3/h
SF/50QV
15
Metal
(A05)
7.6-42.8
6-29.5
800-1800
45
100
50
SF/75QV
18.5
23-77.4
5-28
700-1500
55
150
75
SF/100RV
37
33-187.2
5-28
500-1050
55
150
100
SF/150SV
75
80-393
5-25
250-680
55
200
150
SF/200SV
110
126-575
5.5-25.5
350-650
55
250
200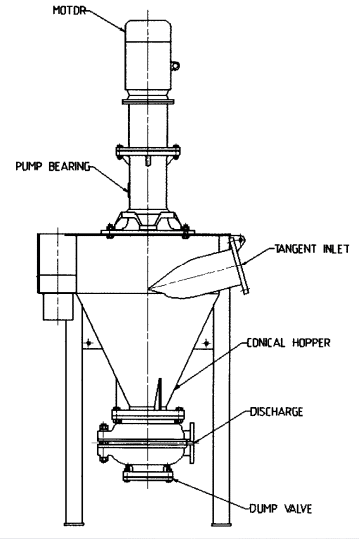 Projects with SF Frothy Pumps: