● Flow rate: 39-86m3/hr
● Head H(m): 13-46
● Speed: 1300-2700rpm
● Efficiency: Max55%
● Materials: Impeller R55
● Impeller: 5-Vane Open Type
● Vane Diameter(mm): 215
● Power: Max 30Kw
● Color: Depend on customers' requirements
● Weight: 154KG
● NPSH (m): 4-6
● Warranty: 1 year Warranty (except wet-end parts)
Introduction: 
The advantages of SHR/50C rubber lined slurry pump:
1. Anti-corrosive rubber liner has features of a wide range of performance, high efficiency, and high-performance cost ratio.
2. Rubber liner is light, thus easy to install and maintain.
3. As the name suggests, the anti-corrosive rubber liner is made of rubber which is of high elasticity and chemical stability. The rubber also absorbs noise and vibration, which is more anti-corrosive than high chromium alloy.
4. Some metallurgy design and research institutes and universities of science and technology provide lots of technological supports. Thus, our rubber discharge end is trustworthy and effective.
5. A series of quality tests are carried out when a rubber liner is being used.
Specifications:
| | |
| --- | --- |
| Pump Model | SHR/50C |
| Outlet | 2-inch |
| Capacity | 39-86.6m3/h |
| TDH | 13-46m |
| Rated Motor Power | 30Kw |
| Speed | 1300-2300r/min |
| NPSH | 2-4m |
Construction of Rubber Slurry Pump: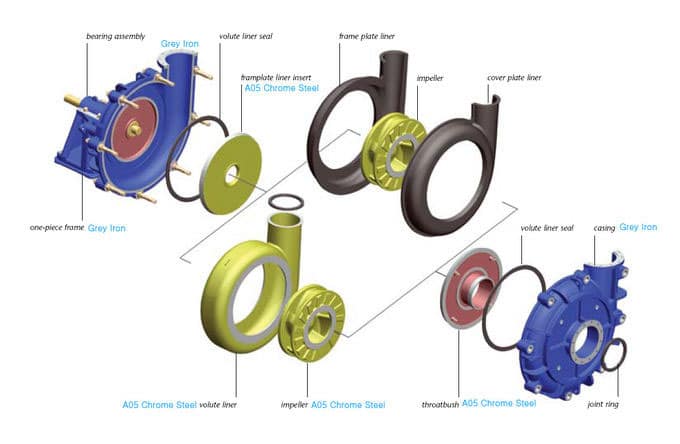 Typical Applications:
Tailings
Heavy Mining
Ash Handling
Cyclone Feeds
Pulp and Paper
Corrosive Slurries
Coal Preparation
Mineral Processing
Aggregate Processing
Heavy Refusal Removal
SME SHR Slurry pumps are designed for the toughest slurry applications